This post is sponsored by Kohl's. I was paid for this post and received the included shoes as compensation.
When it comes to Fall Fashion, I love pieces that I can easily transform from daytime to nighttime outfits. It saves me from having to pick out or purchase a brand new outfit, plus it gets me out the door much quicker. And I'm all about saving time and money!
I purchased this cute floral dress a few months ago and I love how versatile it is. It can be worn any season and can be dressed up or down- it's all about how you accessorize it.
The best way to change up your look is by changing up your shoes. It's a simple swap and completely transforms any outfit.
For a casual look, I love wearing white sneakers! I wear my BRENNAN sneakers from madden NYC all the time and the classic silhouette and easy slip-on fit makes it my favorite everyday style. More and more, I'm seeing dressy outfits paired with white sneakers and they always look so fashionable. Such an effortless way to combine comfort with fashion. Add a jean jacket and you have yourself a super cute outfit that looks good on everyone.
The BRENNAN sneakers come in nine different colors and the white one has a cute black/red design in the back of the shoe. It adds a nice little touch to a plain white sneaker.
Transition your day to night look by adding a classic black heel. For Fall, I love wearing heel boots. I found these madden NYC ROCKETT women's high heel ankle boots and I had to get them.
I love the gold accents and open but closed concept- perfect to show off your pedicure. I also incorporated a black belt. That's it! And look how different it looks from my daytime outfit.

The madden NYC ROCKETT heels also come in red and rose pink color. Which would all go perfectly with my dress.
Kohl's has the latest madden NYC for the fall season at such great prices. Their current Fall Sale on most sandals are $39.99, Orig 49.99 and $5 off boots! Check out the latest madden NYC styles here.
My blog may contain links to other websites. I am not responsible for the privacy policies of those other websites. When you click on a link, your information may be collected by those websites so I encourage you to read their privacy policies. Any affiliate links are not associated with Kohl's.
Thank you Foster Grant for sponsoring this post. Visit FosterGrant.com for all the latest sunglasses styles at amazing prices – for the many shades of you!™
Spending time with my girlfriends is my favorite way to spend my weekends. We all get pretty busy throughout the week, which can sometimes make it difficult to coordinate our schedules. Luckily, no matter the number of commitments we may have, we find a way to make time for each other. Even if it's only once every three months, a girls day is planned out.
Typically good food is always involved.
This past weekend, my girls and I met up at a new restaurant we found on Instagram. Their atmosphere and food looked so inviting that we just had to go check it out for brunch. Luckily, they had outdoor seating because the day was too pretty to stay inside.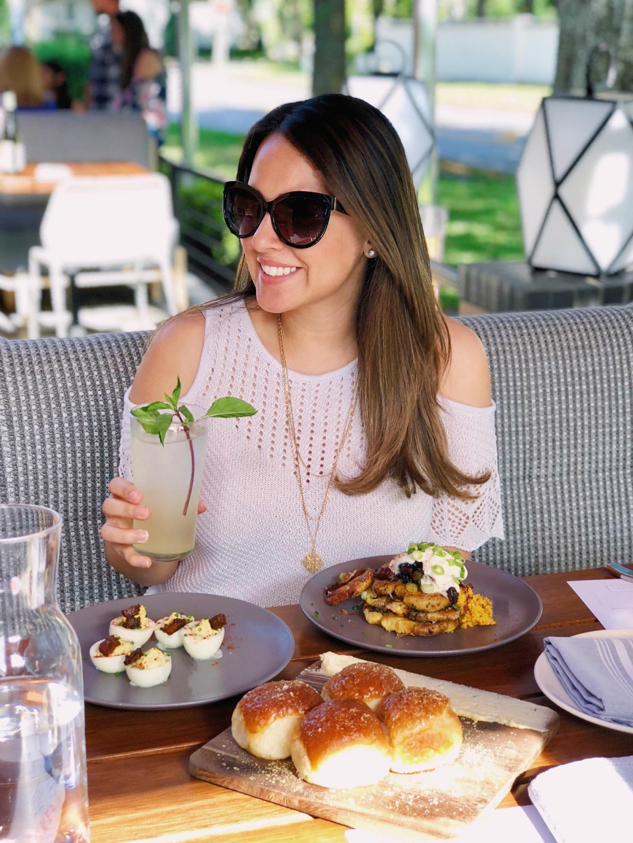 Click the image above to shop!
Whenever I go out to eat, I love ordering a bunch of small dishes and sharing it with everyone. This way, we all get to sample more items on the menu without getting stuffed on just one plate.
My drink of choice was the restaurant's signature sage mint lemonade. So refreshing and a delicious way to cool down from the warm weather.
Seeing as the day was super sunny, it was the perfect excuse to show off my new Foster Grant sunglasses from their Pre-Summer collection.
The oversized cat eye and sophisticated smoke lens make these sunglasses go with pretty much everything. Whether you're dressed up or down, you'll look glam in these chunky shiny black frames.
I like to carry at least two pairs of sunglasses in my car, just in case I want to change up my look throughout the day. I brought my other Foster Grant glasses with me to brunch so my friend Christine could try them on.
When it comes to sunglasses, I tend to play it safe with either black or brown frames. For this pair, I wanted to try something different but a shade that would still compliment my style.
These round 70's inspired purple and yellow ombre lenses caught my attention the moment I saw them on the Foster Grant website. They add a nice variety to my collection and have motivated me to step out of my comfort zone and try out more styles.
Look how good they look on Christine!
With more than 85 years of eyewear expertise, Foster Grant creates every pair of glasses with real quality you can see and feel every time you wear them. All of their sunglasses feature 100% UVA/UVB protection, superior clarity, and scratch-resistant lenses, and are carefully constructed to give you the most comfortable fit.
Best part? They are affordably priced!
Foster Grant makes it easy to update your look and accessorize every outfit with a pair of sunglasses – for the many shades of you™!
Get 20% OFF all Sunglasses when you use code YAY20 at checkout for a limited time only.
Next time you go out for brunch with your friends, you'll be brunchin' in style thanks to Foster Grant!
I was selected for this opportunity as a member of CLEVER and the content and opinions expressed here are all my own.